™
Cascada ™
Resort Design Concepts

▓ The "Breeze" Project:

Recently, Dietmar Scherf, creator of the original Cascada resort design concept as shown below, began work on a brand new breathtaking architectural design concept for resorts. This absolutely new design is so revolutionary and truly exceptional as in its visual perception it seems to defy gravity. There's no comparative resort structure in the world and with the "Breeze" Mr. Scherf introduces a completely new era of megaresorts for decades to come. As is usual for Mr. Scherf's design creations, God's wonderful creation of the universe and its versatility have served as a vital inspiration for the "Breeze" project.

The "Breeze" (current project name ... the actual name of the design is truly beautiful and will be revealed in the future) is so overwhelming as it's a true masterpiece of beauty and styling which leaves observers in absolute awe. Due to the fact of widespread plagiarism, especially in the Las Vegas resort industry, for now we will not provide artist renderings or further descriptions/details of the "Breeze" resort design concept.
---
▓ The phenomenal Cascada Resort Design: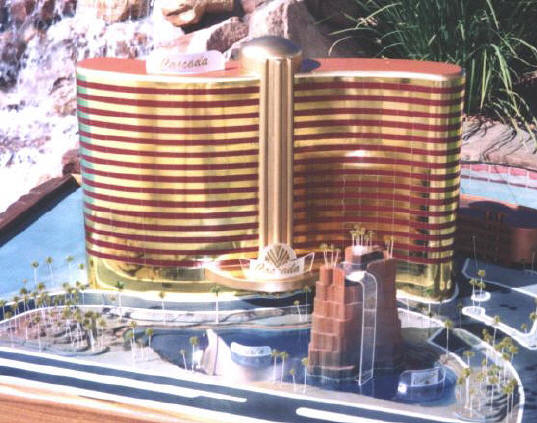 ™
Cascada
© 1997 by Dietmar Scherf
Design by Dietmar Scherf & Kelly Everson
Dietmar Scherf, creator of the new Las Vegas megaresorts:

The Cascada was the forerunner and inspiration for some of the new Las Vegas megaresorts which were built in the new millennium. With the Cascada, designer and entrepreneur Dietmar Scherf together with award-winning architect Kelly Everson created the concept of the new Las Vegas megaresort in which they deviated from the then popular and often cheesy themed resorts to a combination of exceptional style, architecture and an emphasis on superb customer service for these luxury resorts. When Mr. Scherf's resort concept was introduced in 1997, it was quickly dismissed and rejected. But after years of promoting his resort design and concept, at the dawn of the new millennium Mr. Scherf's unique Cascada concept was adopted here and there by all major Las Vegas resort developers. As is so often the case, the rather self-absorbed Las Vegas developers have rarely ever given credit to Mr. Scherf or Mr. Everson for their inspiration and their untiring efforts to promote this new style and concept for Las Vegas megaresorts as plagiarism is very prevalent throughout this industry.

Aside from an emphasis on design and architecture with e.g. curved glass towers like the Cascada concept, the new resorts also featured luxury car dealerships, and with the new resorts the developers constructed large rooms with all kinds of amenities including mini bars, large-screen TVs, Internet access, etc. which was frowned upon by the very same developers just a few years earlier.

> Cascada - The Name
> Dimensions and some Stats for the Cascada Resort
> Some of the luxury features for the Cascada
> Targeted Audience and Clientele
> Preliminary Rates & Lease/Sales Information
> Performing Arts Center & Exhibition Hall/Convention Center
> Cascada Site Plan & Proposed Cascada Site
> Design Licensing of the fabulous Cascada Design

Historical Data

> Estimated Construction Costs
> Financing the Construction of the Cascada Resort

---
---
---
---
---
▓ CASCADA - The Name

The brand name Cascada (TM) is derived from the Italian word for waterfall "cascata" and from the description of cascading waterfalls.

Dimensions and some Stats for the fascinating future Cascada Resort in Las Vegas
Height: approx. 475 ft.
Length: approx. 840 ft.
Width (central tower): approx. 120 ft.
Floors: a combined total of 36 floors (6 ground floors are partially combined/opened up).
---
▓ Here are some of the Features for the Cascada from 1997:

approx. 1,300 luxuriously appointed spacious suites (from 1,200 to 5,000 sq.ft., and there is also the option of possible combinations which could feature 2-3 stories); Example: the average Las Vegas hotel room has only 375 sq.ft., and in the luxurious Venetian the suites average approx. 750 sq.ft.;
High ceilings (approx. 12 ft. minimum);
Panorama windows (floor-to-ceiling);
Many desirable amenities in all rooms: min. 42" Plasma/LCD TV with Cable & Satellite connections as well as High-Speed Internet, and DVD with surround sound system;
King-size luxury beds incl. elaborate poster beds with a variety of high quality mattresses including pillowtops, etc., lush 100% finest cotton linens & bedding (at least 600 thread and up; silk available upon request), daily change of linens;
Super luxurious thick carpeting and tiles (marble, etc.);
Extensive Mini-bar, refrigerator;
Fax-machine, PC and/or Mac with high-speed Internet access and wireless capabilities in every suite;
Wide hallways;
All services are available 24/7 (24-hours/7 days a week): maid, butler, concierge, secretarial, chauffeur with limousines (featuring Rolls Royce, Bentley, Maybach, Mercedes Benz, BMW, Jaguar, Lexus, Cadillac, Lincoln, Hummer H2 & H3, Chrysler 300), helicopter and special air services (incl. Gulfstream jets, Sikorsky helicopters, etc.), room service with extensive menus of culinary specialties;
Various lounges, incl. lounges with live entertainment for different moods and needs;
Lush tropical gardens and pool areas;
Sport facilities: several spas, gyms, tennis courts, squash centers, indoor pools, etc.;
200-ft. cascading Hawaiian-style waterfall with built-in restaurants;
A great variety of fine restaurants with the finest domestic and international cuisine;
Brand name retail shops, specialty stores and dealerships for Original Art, custom motorcycles, yachts, customized/special order luxury automobiles;
Convention and conference facilities including a modular Exhibition hall which will accommodate very large vehicles and objects for display incl. airplanes and specialty custom automobile/motorcycle/yacht dealerships; premier meeting & office facilities;
2,000-seat Performing Arts Center featuring spacious comfortable seating with top-of-the line acoustics and stage arrangements;
Exclusive Private Villas;
Extensive security features: panic buttons, various high-tech ID entry features (e.g. voice recognition, digital fingerprint ID, retina scan, etc.) to all suites;
Child/Day-care facilities;
and much more ...
---
▓ Targeted Audience/Clientele

Domestic and international business travelers and executives (convention attendees);

Affluent travelers seeking the exceptional and the most luxurious appointments;

Celebrity events;

The Cascada will also offer a number of units for permanent residences for private and commercial entities.

▓ Preliminary Rates & Lease/Sales Information (1997)

(This information is subject to change and adjustments as the Cascada resort has not yet been built, and this information should only serve as an early preliminary basic idea to what the cost for a stay or to live at such a property would be. This is not an offer to solicit any bookings to stay at the Cascada or to solicit to purchase/lease space at the future Cascada. This resort has not been built and at this time it is only on the drawing boards and in its conceptualization phase.)

Suite/Villa rates: starting from approx. US$500 (suite) per night;

Conference, Convention, Meeting facilities: starting from free (certain restrictions apply) to approx. US$40,000 per 3-hour unit;

Leases (Retail shops, office suites, residential suites, villas, restaurants): starting from approx. US$120 to US$250 sq.ft./p.a. (based on 3-year lease commitments);

Sales (Retail shops, office suites, residential suites, villas, restaurants): starting from approx. US$600 to US$1,200 sq.ft.
---
▓ Performing Arts Center & Exhibition Hall/Convention Center

Both, the performing Arts Center and the Exhibition Hall/Convention Center represent a new generation of architecture. Although influences by Frank Lloyd Wright are undeniable, both projects are guideposts for modern architecture in the new millennium.

▓ Cascada Site Plan & Formerly Proposed Cascada Site

On the left below you can see an artist rendering for the preliminary layout of the Cascada site plan. The photograph on the right below shows the formerly desired approx. 40-acre site for the Cascada Resort in Las Vegas. This particular site was located across from the Sahara Hotel on the southwest corner of Sahara Avenue and Las Vegas Boulevard South (Note: this particular site is now already under development by a group of developers for a different resort). There are still numerous other very interesting land tracts/sites available throughout the Las Vegas valley to build the Cascada Resort sometime in the future.

---
Design Licensing of the fabulous Cascada Design
The unique and innovative Cascada design concept by artist Dietmar Scherf is available for licensing to qualified developers. The color combinations can be adjusted and changed (the original design was created for a jewel in the desert reflecting the desert sun of mainly gold/bronze/copper glass with horizontal stripes accents) to a developer's specific needs (e.g. blue with silver makes for a great combination, or even stucco applications with white, ivory, peach, and combinations thereof produce unique effects).

The dimensions of the Cascada design structure can be reduced or enlarged to various requirements, as a number of modifications to the final design are available. The predominant aspect of the Cascada design is the flexibility to adjust this unique design in various ways to a specific landscape, skyline and in respect to environmental considerations. Key to the design are the sensual curved shapes of the structure, especially the "S" tower or the half-size "C" and reversed "C" or curved tower(s) that make any construction of this size flow with natural elements (ocean waves, hills, clouds, sand dunes, a fabric blowing in the wind, etc.--the "S" tower is also known as the "Propeller"). The Cascada design is also distinguished by its rounded elements in respect to the curved tower(s) and at each end of the structure and at the center (central tower) of the building.

The idea, concept and conceptualization of the unique and innovative design concept for the Cascada originated with artist Dietmar Scherf, and it was superbly executed by award-winning architectural designer Kelly Everson in 1997.

▓ Non-Exclusive Basic License (Restricted License):
The fee for a basic copyright license to use our design elements and/or styling cues, especially the "Curve & Wave" concept incl. "S" tower ("Propeller") or "C" tower(s) or reversed "C" tower(s) (half and/or one side of the Cascada design structure), rounded end and/or center elements, and aspects of our creative artistic Cascada architectural design idea/concept for certain elements of a similar structure starts at only US$2.5 million (and it may vary depending on the project). This fee does not involve our assistance for further input and/or inspiration and/or execution of a structure, but only grants to the developer the right to copy in its original or a modified form the essential Cascada design elements/concept and/or styling cues found in the Cascada design for one property and for one structure. The fee increases if multiple structures with the same and/or similar design elements and/or styling cues derived from the original Cascada design are erected at one site.

▓ Non-Exclusive Full License (Unrestricted License):
The fee for a full copyright license for one property starts at US$5 million without our involvement, or with our further involvement it will usually calculate at approx. US$7.5 - US$10 million depending on the project and the degree of our involvement regarding modifications and specific adjustments for the creative artistic design studies of a particular structure. As creative design and styling consultants our work includes the creative artistic aspect/conceptualization as well as the inspirational part for a building and the proposed site. In order to produce a feasible final execution of a particular structure for actual construction with implementation of an architectural design we always work together with experienced licensed architects of either your choice or with our recommended architectural firms. All or some fees for architectural firms can be included in our copyright license fees, but depending on the project, may be paid directly by the developer to the contracted architectural firm(s) involved.

It can be very helpful that you contact us as early as possible in the planning stages of your project and if you prefer to involve us regarding our input in the creative artistic architectural design conceptualization, especially if you desire a full copyright license. Our input is vital to the aesthetics of your final plans for your particular structure as we can assist your architects with ideas, artistic renderings, models, etc. to bring your vision to reality and to make your project an absolute design success. Although our main focus is on hotel, resort and condominium projects, we'll gladly offer our copyright licenses for structures with various use/purposes to qualified developers.

▓ Important Note: Although copying all or parts of each of our designs is considered by some people a form of flattery, without the appropriate license from us such copying and/or plagiarism in any form constitutes a violation of applicable copyright laws in the U.S. and around the world. It is very important to note that it is illegal to "borrow" and/or use any aspect of the Cascada design concept incl. design/styling cues/elements and images, the design concept in part or in whole, even in a modified form, without obtaining a specific written permission and an appropriate licensing agreement from us.

Important Links:
> Copyright FAQ (U.S. Copyright Office)
> U.S. Copyright Office

For any questions regarding licensing, etc., please Contact Our Office at your convenience.
---
Historical Data



▓ Estimated Construction Costs

Based on current revised estimates, the construction and furnishing of the Cascada will cost approx. US$1.2 billion, but the final price tag could be as high as US$2.4 billion, depending on the materials used for a number of features on the interior as well as on the exterior and outside amenities like the signature 200-ft. waterfall, the exhibition hall and performing arts center.


▓ Financing the Construction of the Cascada Resort

If you're a principal with at least US$100 million of available investment capital and you're interested in participating and/or financing the Cascada project in Las Vegas or a Cascada resort in any other jurisdiction around the globe, then please Contact our Office. In Las Vegas, even the megaresorts with three times the room capacity of the Cascada run at occupancy rates of around 95%. At an occupancy rate of approx. 85%, the Cascada would pay for itself within 3-5 years. At only approx. 60-65% occupancy rate, the Cascada is scheduled to break even on an annual basis. There are various interesting suggestions to finance not only the construction of a Cascada resort in Las Vegas, but also to build a number of Cascada resorts around the world.
---
---
▓ CONTACT INFORMATION:

Cascada Project / Scherf Corporation
Las Vegas NV, USA
E-Mail: ds@scherf.com